Aug. 22 & 24, 2019
Conditional Design
****
Fears: How do you place words on paper again?
Good Advice: Be humble. It will get better. Fake it until you make it.
****
Group Insights with the Exercise:
Prioritizing rules & goals

Feelings: the freedom to discover vs. anxiety over uncertainty

Inconsistency vs. adaptation

Different interpretations of rules

Negotiation of the meaning of rules

Different interpretations of angle degree

Questioning the objective: do we reach the edge or fill more spaces

Language matters

Rules become more complex when dependent on someone else (domino effect)

Bending old rules to accommodate new ones

Our human choice, free form–why we choose to put a particular line in a particular place.

Different colors take on different relationships

Looking for the "right" way to interpret rules

Thinking ahead to help people collaborating next inline

The "condition-maker" designed the outcome - in general, there is an aesthetic commonality

Size of paper can change the outcome (scope, context, etc)

Sacrifice some rules to get to the goal faster. The goal is more important than following rules

This is like a sprint challenge

How does the medium and context affect the implementation of certain conditions

Form vs Function (cross lines / don't cross lines) What rule do you break if you can't make a line?

Rules constructed by participants

As long as there is buy-in, rules can be broken.

Range as a restriction

Rules vs. human interpretation

Outcomes can differ based on personalities and team communication

Demographics, needs/wants, values, perspectives, background.

Caring capacity, making sacrifices, prioritizing

Concrete rules vs. flexible rules
Reflection:
As a designer, we need a process to follow when working towards a particular goal or outcome. The process you select will influence the direction of your design and help facilitate discussion and decision making around the final outcome. How successful the outcome is, is dependent on what the goal is. If there isn't alignment around the goal or desired outcome, then the process becomes more loose and ambiguous (this isn't necessarily a bad thing). Processes, where experimentation and discovery are prioritized, outcomes will tend to be more fluid and unpredictable. However, with this flexibility comes feelings of uncertainty that the outcome will result in a solution to your design problem. If you start with a specific goal that the team is aligned around you will more likely obtain an outcome or solution that works and satisfies all parties involved.
In addition to setting a goal, you will need to have someone validate the success of the outcome or provide input throughout the process. This role in companies is usually reserved for Clients, CEOs, Creative Directors, or Art Directors. Without buy-in from key stakeholders along the way, you risk creating a solution that doesn't meet their expectations or solve the problem in the way they envisioned. Finally, the inclusion of different voices throughout the design process could be very beneficial. Each person brings a unique perspective and if you are trying to satisfy the needs of someone different that yourself, it's important to get that input often and early in your process so the outcome is meeting those needs and goals. One solution for a group of designers, might not be the right solution for someone else. Often without the input from outside sources, outcomes can fail even if the process was followed exactly. The biggest variable to consider in your design process is the people. Make sure the right people have a seat at the table so that the outcome meets the expectations of those you are designing for.
Depending on your expectations with the outcome, in theory, using a process should remove feelings of anxiety because the outcome is what it is and there is a sense of shared responsibility and ownership of that outcome amongst the group.
There are many different types of design thinking methods that I have personally engaged with throughout my career.
Thinking Wrong Think Wrong is our radical problem-solving-system that reliably produces surprising, ingenious answers to your most wicked questions. When you need to solve to a better place. When you or your clients have a problem that seems too big or a solution that just doesn't seem right. When you, your clients, or your clients' clients need to break free from the status quo. When you aren't even sure what the problem is, it's time to think wrong.

Crazy 8s The idea is to generate as many ideas as possible within a short timeframe, focusing on quantity of ideas, not quality, and then once you've got a bunch of divergent thinking on one topic, to begin converging on some winning ideas by voting on the favorites.

Sprint Exercise The outcome of a design Sprint is not an end result, but rather a starting point. The goal of a Design Sprint is not to end up with a perfect solution after just one week, but to get feedback on one or two possible solutions.
Questions:
How do you choose the best process for your problem that you are trying to solve? Are there certain processes that work better than others when working on specific problems?

What input is the best kind of input? Are there rules on how people can provide input? What is the hierarchy of that input? Is there a final decision maker?

How often do you get input? How do you balance time working through the process with the amount of time making a decision?
Example in the world:
I was listening to NPR on the way home from work today and a man was talking about systems of oppression. A negative result of design systems created through the interpretation of rules. For example, redlining allowed one demographic of people to disenfranchise another. The people in power at banks withheld their investments in certain areas and thus were able to benefit White Americans over the middle- to upper-class African Americans. The outcome was the disparagement of certain minority communities.
Sources:
Conditional Design Workbook
By Valiz
Futurespective
****
Fears: Am I the only one that's confused?
Good Advice: You just have to laugh. You can't do it all. Also, diagrams make you look smart.
****
Response to Futurespective/Conditional Design:
Thought it was interesting how in order to move through a design process, there needed to be alignment on the goal and what the rules were. This took the shape of teams forming (coming together in a space), storming (conflict), norming (coming to an agreement), and performing (moving through the process). Rules of engagement were established for each team as they worked through the design challenge. I think this exercise also highlighted the importance of setting expectations at the beginning of a process and establishing a common language to work within. Careers that deal with art direction, creative direction, and management prioritize this in their work to help their teams reach a desired outcome or goal.
Going through a conditional design process works well for like-minded individuals like designers, however, what happens when you involve a client? Do they impact the rules in a different way? Does their authority and sway in decision making outweigh other's views/opinions? There seems to be explicit rules we follow as designers when working with clients and implicit rules as well. The implicit being relationship management. How we socialize and empathize with our client is critical to making something that meets their needs and wants. This holds true for understanding our user's as well .

Team Exercise:
We were challenged with breaking up the definition of Futurespective. Our team was tasked with the word Situational, a word relating to the Futurespective design thinking process. We defined it in this illustration:
Our next task was to examine all parts of the word Futurespective and pull out a definition that our team could agree upon:
Finally, to validate our understanding of this process, we outlined a scenario in which a class of college design students were using a futurespective approach to solve a problem so that they could learn about the process for their own design work.
Workshop:
Objective: Understand Futurespective as a design process. Understanding of how your individual situation and past experiences affect your futurespective thinking.
Prompt: It's the year 2060 and we did it! We solved climate change by removing all carbon emissions. This happened in 10 stages starting in the year 2020. Each stage is contingent on the ones before it. Work backwards to the year 2020 from stage 10 to stage 1 to arrive at our future of being carbon-free. Reflect on cultural, technical, economically, and social contexts as you are creating these stages.
Length of Workshop: 30 minutes
Debrief: Now that we've completed our exercise, let's compare the results.
What do you think you uniquely brought to this exercise?

Could you see this process working to solve other design problems?

How achievable do you think this goal is using the steps you've outlined? How does context play a role in solving this problem?
From here we presented our workshop and through an almost design process we critiqued each other's work in order to iterate upon it. Our next workshop was then modified in the process outlined below.
Without finalizing this workshop fully, our instructor then directed us to each take some time individually to brainstorm iterations of our team constructed workshop. The result of that brainstorm is below:
August 27, 2019
Procrastination and Process
I was feeling stuck and exhausted and I decided I would work on everything else on my priority list before addressing the scary and obscure Futurespective abstract paper assignment. Normally this approach isn't good for anyone, however, by stepping away from my computer and taking a moment to do something else turned out to be just what I needed.
Design reading is not exactly the escape from doing other work, however, a few lines into the assigned reading, DesigningDesigning pg 127-142 by Jones, I was hit head on with a line that resonated with me. Jones describes his frustrations with "looking for clue[s] as to how to begin, how to initiate a pleasant flow of thought and words" (Jones, 127). And as I read further, I soon discovered that Jones had used a design process to create the document I was now reading intently.
If Jones can make a paper using design thinking, then so can I! Uncertain and uncomfortable I begin to outline my own process and plan to complete my assignment. This time with a bit more zeal and determination (I'll finish all that reading later).
Constraints/Rules:
General Rules

500 word abstract

Double space

Times New Roman

12pt

Actions

Place these words on sticky notes.

Technological

Cultural

Sococial

Political

Geographical

In a separate pile place these words on sticky notes.

Follow the three part outline

Introduction = Thesis statement (sub topic)

Body = Share your feelings about the topic, the scenario, and the original approach.

Conclusion = Close with a 50 word conclusion

What should be included
Vivid descriptions of an object, event, or phenomenon.

Compare things

Present certain associations with the event
Following the outline, I began using post-it notes to help organize my visual brainstorm around the requirements of an abstract that I had outlined.
In the end I came up with an abstract that centered around this idea:
Instead of growing our food in rural landscapes that continue to disrupt our environment, we should be opening up the spaces that people live in.
With this concept in mind we performed two exercises in class which helped us loosen up and start writing with narrative and voice. Here's a draft of the essay following this exercise:
I'm in my red zone. Code red. Catastrophic, meltdown red. There isn't anything people can say to make me see this situation any differently. We are toast. Burnt to a crisp reentering the atmosphere toast (wait is there even still an atmosphere left to enter?). I guess what I'm trying to say is that climate change is real dummies. Or for those of you who haven't quite gotten the hint, it's hot, like a fried egg on top of a bad sunburn hot. There are dolphins practically swimming in our "beach" homes and we still don't have a freaking clue how we want to solve it?
I don't know how many cans I need to recycle or reusable bags I need to use in order for someone out there to notice. I'm literally jumping in my seat ready to take this bitch of a problem on. Like a 4th grader in the front row, her hand still raised. Call on me damn-it! Call on my roommate, my grandmother, my friend, for heck sake call on my dog. Just do something and let me help. I'd prefer not to be screwed-over like that ex-boyfriend who told me he loved but didn't really "love me".
So if you really love me, or care about anyone besides yourself, you'll realize I'm the answer to your problem. Let me solve it and while we're at it why not make sure everyone else can solve it too. We can do it together, like that powerpoint presentation we were all assigned to make and Chad was the only one who didn't show up. I guarantee you, we are all ready. Just give us the right platform.
Overall, I think I was successful. By taking on a personality and voice that felt authentic to me I was able to express my viewpoint around issues I care about. Here's to finding out if I did the assignment correctly!
And if you are interested, here is my final submission…
Let's do it together.
I'm in my red zone. Code red. Catastrophic, meltdown red. There isn't anything people can say to make me see this situation any differently. We are toast. Burnt-to-a-crisp-reentering-the-atmosphere kind of toast. Wait, is there still an atmosphere left to even enter? I guess what I'm trying to say is that climate change is real, dummies. Or for those of you who haven't quite gotten the hint, it's hot, like a fried egg on top of a bad sunburn hot. Dolphins practically swim in our beach homes and we still don't have a freaking clue as to how we might rein in this inferno.
Well, maybe it's because we aren't using the right platforms. What platforms do you ask? Well, let me paint you a picture from our recent past. In 2008, Airbnb launched a simple and flexible and scalable platform with which people could share their homes and living spaces for a reasonable fee. This peer-to-peer marketplace quickly expanded as more and more people opened their doors to travelers and guests. They reinvented the homestay experience overnight. The following year, Uber applied this same model to a ride-sharing service and allowed individuals all over the world to use their own vehicles to make a little extra cash on their own time.
So the question I'd like to propose is a simple one. How can we apply these same successful systems like those used by Airbnb and Uber, that transfer ownership from corporations and governments to the individuals who make up our communities, to help us prepare for and address the future impacts of climate change? Let's take food as an example. Imagine if we rented out yards or rooms in cities and suburbs to local gardeners and farmers and we used a peer-to-peer model to invent new ways of accessing and producing food for our communities? Could we continue to grow food without the negative environmental impact? Could we create more environmentally friendly practices, improve access to nutritional food, decrease food waste, and increase jobs while investing at a local level? Just think of all the opportunities we would generate by moving one successful platform over to an entirely different industry and allow a home or community to shift the status quo of what it looks like to solve climate change.
All we need now is someone to design it. Someone to take what we have learned about the power of peer-to-peer marketplaces and scaleable design and create a new platform. A platform that allows individuals to be agents of change within the climate change arena. To remove the apathy we are all feeling and allow us to work collectively towards a future where climate change is halted and issues are finally being addressed. But for freaking sake let's do it now before it's too late! Like: I slept-in, missed the bus, and forgot to put on pants, late.
September 03, 2019
NPR, Meditation, Dachshunds, and Sleep
****
Fears: Things might be good now, but a storm is brewing.
Good Advice: Dogs + Me = Success
****
I've now been immersed in design systems thinking for the last three weeks and starting to feel my feet under me again. Things are flowing instead of a sporadic mess and I can finally see how there are areas in my "life system" that could be modified and improved to maintain my sanity during this whole educational process. So here is a list of some things I've found adding to my success and things I've found holding me back.
NPR–Literally have been listening to this everyday. Not only do I find comfort in the voices and great storytelling, but I've been inspired ten times this week with problems they've reported on that I feel I could help solve using design. Pretty neat. Reminds me I should keep up my reading as well, but let's not get too crazy.

Meditation–I use to get counseling when I was in undergrad to help with my stress levels and the anxiety that runs in my family. I'm a student again so that means these services are free and adding this mental check-up back into my schedule seems like a really good idea. So this week I had my first group therapy workshop on how to use meditation to help with anxiety or other mood symptoms. Wow, this is something so easy I can do for myself and feel the benefits from immediately. Warning to self: do not practice meditation in a horizontal or reclined position because it will probably turn into an hour long power nap…

Dachshunds–I'm pretty sure I just got a design job because of my dachshund. A good reminder that having a dog is essential if you want to feel like a rockstar everyday and is pretty great for building connections and rapport with strangers. Another insight I'm having as I write this … I'm not that cool without my dog. Dog + Me = Success.

Sleep–Let's be real. This is the first thing to go in my life when I'm running out of time to get everything done. I know that when I get sleep I'm about 100% more productive and fun to be around. With that said, my goal this month will be to cut out other activities like TV and drinking to help me get this area of my life back on track.
Overall, I hope this list inspires me to keep doing what's good for me and stop doing what is draining me. Here's to another month in grad school!

September 07, 2019
Events attended, knowledge gained
****
Fears: Did I take on too much?
Good Advice: Slow down, enjoy the moment, and follow your own path.
****
As someone who is curious about the world, I often feel like an overripe tomato, absorbing everything and anything I can to fill my need to learn. To gain more knowledge than I had before. To be inspired by new knowledge and ideas that I can place in a small corner of my mind and keep them tucked away until I need them. So of course I was extremely motivated to attend an AIGA Raleigh Community meeting on Stress & Self and a Coffee & Viz event on Digital Media in Unique Places and a Study of Visualization this week. Here are some notes and images that I collected during these events.
Stress & Self by Taylor Cashdan
Taylor was addicted to stress (this sounds familiar 😬). He became so addicted that it became unhealthy physically. He started experiencing AFIB (Atrial fibrillation) and other complications with his health. To combat this addiction, Taylor came up with a new way of living.
A.F.I.B.
Ask → Ask about your tasks, Ask about your people, Ask about your plan. Are all of these worth it?

Fuck-it → Say "no" to things that aren't filling you up with joy or happiness.

Incubate → Invest time into things you care about. Don't compare yourself to others. It's your time, your things, and your circle that matter.

Be → Be intentional with your choices, your tasks, and your actions
I think my takeaway from this presentation was that you have to make time for things that matter, and you don't have to bite off more than you can chew. Slow down and enjoy the moment.
Digital Media in Unique Places and a Study of Visualization
Both presenters created user experiences/installations using a tool called TouchDesigner (TouchDesigner is a visual development platform that equips you with the tools you need to create stunning real time projects and rich user experiences).
One presenter outlined her process for creating a documentary experience focused around the "Us Versus Them" phenomenon also, known as "Othering".

She used multiple perspectives of images and media at the same time to highlight a sense of place for the viewer. This allowed viewers to hear multiple interviews of women at the same time and see multiple images/video clips that added context to their stories.

The second presenter utilized TouchDesigner to create an experience where data could tell a story and make data more consumable to different types of people. He also used machine learning tools (Weka) and a mobile device to create more interaction between the participant and his installation.

A mobile device was used instead of other devices because most people have access to this type of device.

There was a lot of new technology I have never heard of that was used for this particular event so even just going to listen to how these presenters created their projects was super eye opening. My view of how I can design or communicate an idea has broadened.
September 11, 2019
Method to the Madness
****
Fears: Someone is going to realize I don't know what I'm doing.
Good Advice: Just do it.
****
Monday's class was centered around debriefing our reading over the last few weeks. Separated in small groups, we were tasked with recording our thoughts using a sheet of butcher block paper and markers. Without any further instructions, my team and I immediately dove into key ideas gleaned from our readings. Popcorn style, we all went around and contributed to the conversation and Jack was tasked as our scribe. Only when we had come to a consensus on an idea, did Jack decide to commit pen to paper. Main trains of thought covered included, chaos being an essential element of the design process, using a research method as a way to narrow your problem space and expand your solution space, and finally, how rules and improvisation can lead to interesting outcomes.
The greatest learning however, happened when all teams came together and presented our brainstorms. During this discussion we became aware of the variation that occurred between each of our teams brainstorm methods. As one team tried brainstorming in silent another team recorded thoughts collectively in discourse. I've compiled all of our process work below for you to compare and contrast. This is just another reminder of how the act of simply doing can lead to variation and discovery even in the brainstorm space.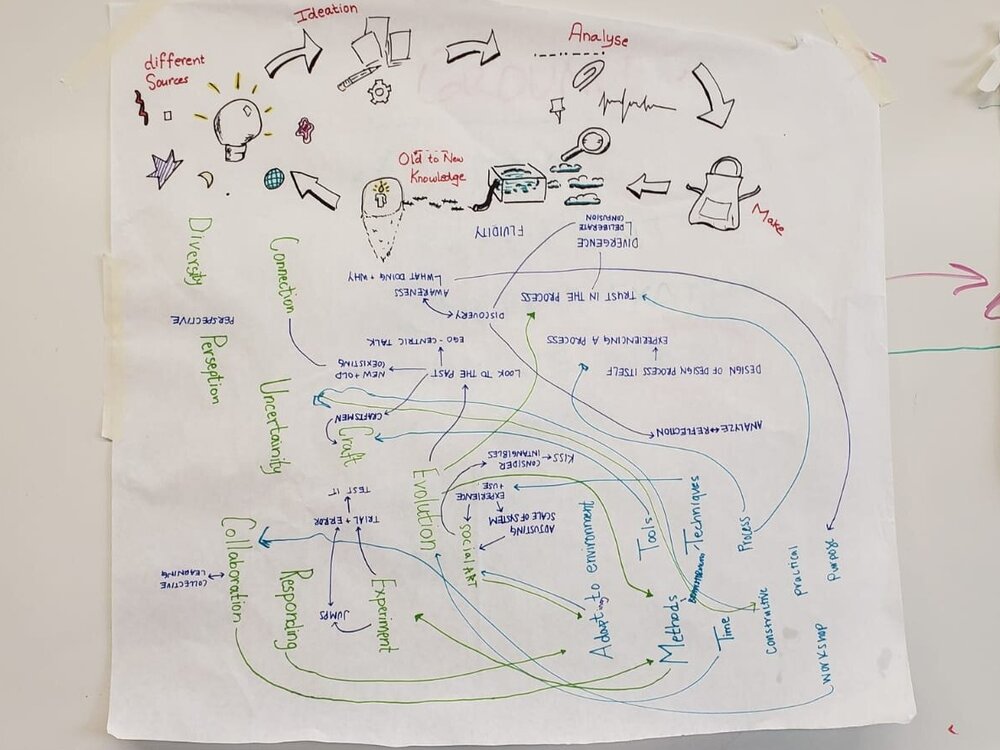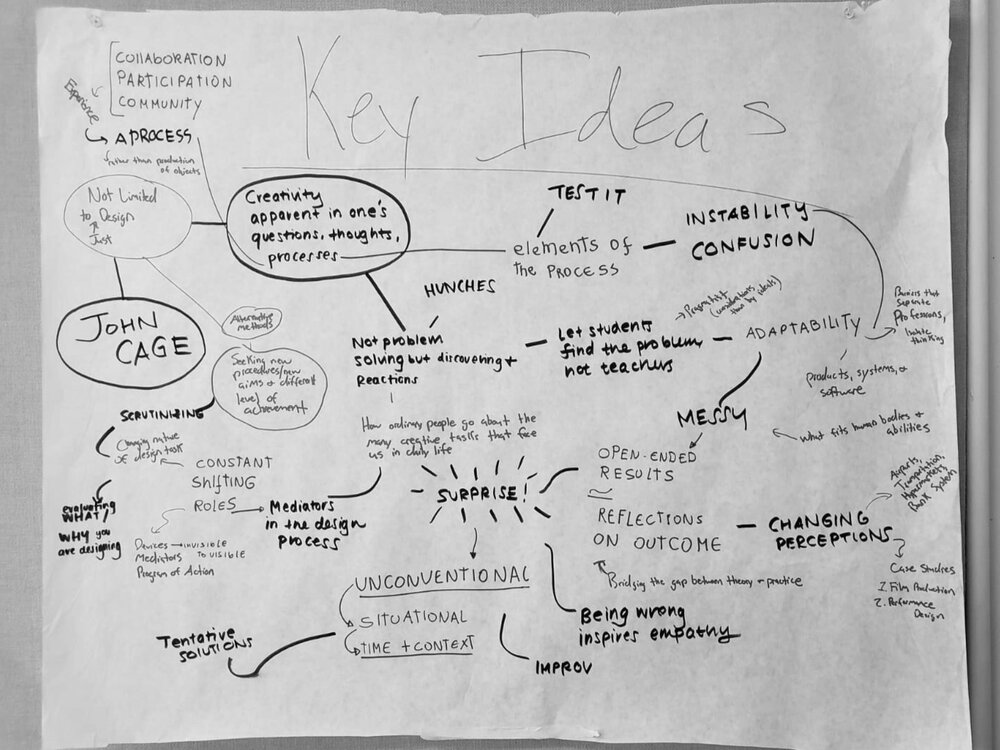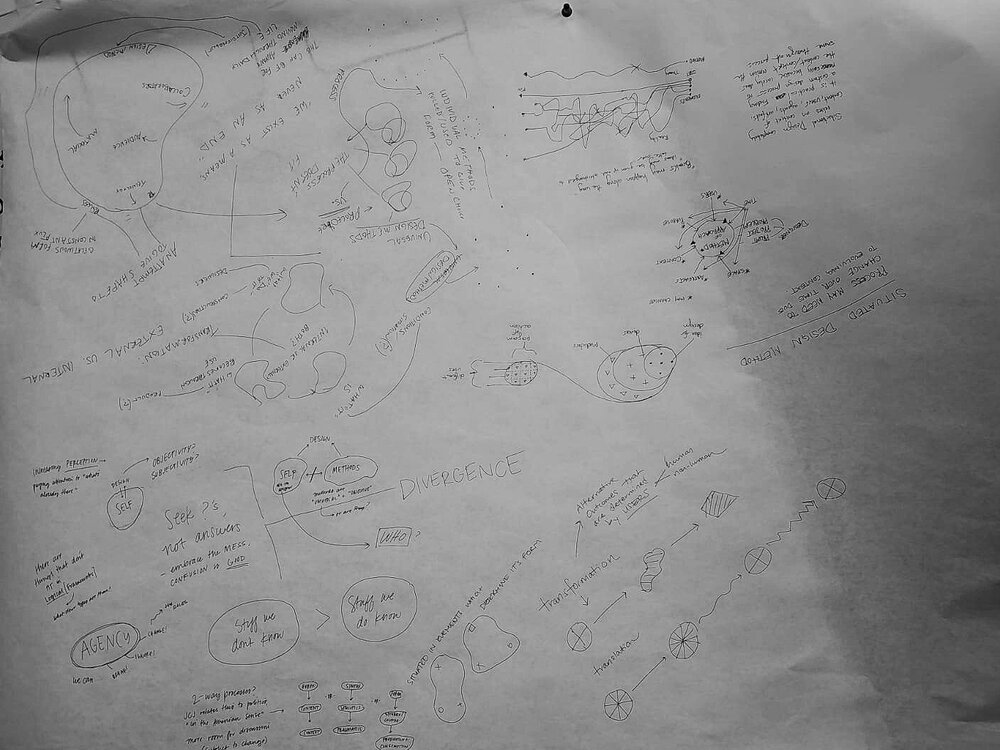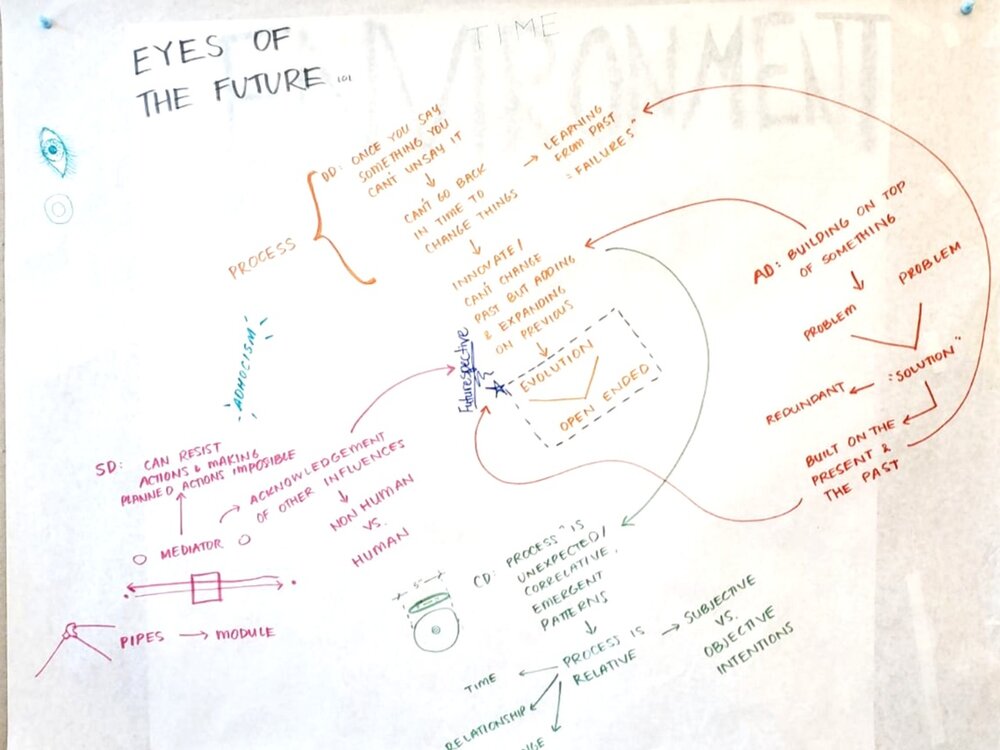 Making Making Making
****
Fears: I'm just having fun with a touch of anxiety.
Good Advice: You can't design a bat 🦇, but you can design for a bat.
****
Goal:
Discover something new about my abstract topic and make something physical.
Documentation:
Exploration 1.0
Express the personality and voice of my abstract in a more visual way. Use a device or platform that allows for personalization and individuality to be expressed.


Device used: Phone

Platform: Apple Messages

Visual output: Emojis


I took my entire paper and translated each word and thought into an emoji. By going through a flow state of writing I translated my abstract line by line. As I was working through the paper, I noticed depending on how many emoji's I put in an individual text, the size of the emojis would vary. This difference created a unique flow when scanning the entire work, emphasizing certain sections over others. Not only have the emojis changed the interpretation of my abstract, but so has addition of visual hierarchy. Although this was an interesting exercise, I'm not sure what I gained and felt cold from the experience. So I set out to explore a different platform to input my abstract into.
Exploration 1.2
Push the visual output of my abstract. Play with other tools and see what happens.


Device: Laptop

Program: GauGan a generative adversarial AI system that lets you create lifelike landscape images that never existed.

Visual output: machine generated landscapes


Without a clear approach of how I would implement my abstract into this program, I began doodling. With a few normal landscapes I started to think about how I could draw other images in this platform other than landscapes. Pulling key phrases or words that resonated with my abstract, I generated unique typographic landscapes. The unpredictability of my work was thrilling. Enjoying the experience I even engaged my roommate in the process. In my own eyes, I felt I was touching on something significant and an internal dialogue around this exploration arose:


In my abstract I discuss how individuals, when given the right tools or opportunity, will do something about climate change. By empowering the individual with platforms that work, we are opening up the solution space and allowing for action in the face of inaction.

When engaging with this tool, I felt the instant gratification of inputting data and seeing an output on the other side. My actions felt purposeful.

The pastoral elements were serendipitous, alluding to the impact climate change has on our landscapes and communities.

I was able to explore the emotions expressed in my abstract more freely. Typographic expressions became unique and abstracted landscapes.

Questions: What if I included others in this process? What story would their images tell about the future of climate change? How would the process of making and the thoughts laid out in my abstract parallel?

Further exploration: Project these images and experimenting with overlays. Maybe flashing through all of the inputs and outcomes to see how they work collectively.
Exploration 1.3
Try a different platforms to express words of essay.


Device: Laptop

Platform: Instagram

Visual output: Top posts of a hashtag search result
Post Updated: 9/16/19
Exploration 2.0
Today I was able to present my final exploration, 2.0. This exploration was a result of a conversation with my instructor. She suggested I answer my abstract more directly and that got me thinking about how I could test the viability of my food system platform. I decided to use my own house to test this idea on. Below you'll see my final outcome and the discovery that resulted from this exploration.
Research: